Best 6 Free Advertising Sites
Best 6 Free Advertising Sites.
Marketing is one of the most important aspects of any business. It can help to make or break your business. Marketing is like oxygen for your business, your business needs it to survive. Whether you have a good and innovative product or you have a product that does not have high demand, advertising will definitely create demand for it.
Each era in the history of the modern world has its own way of advertising products and services. Some of which are still present today. However, with time new and improved methods of advertising are also introduced which overtake the previous methods in popularity and effectiveness. A few decades ago, if you wanted to advertise your business, you had to give an advertisement in the newspaper, after a few years radio was introduced and people started using radio to advertise their products and service. Fast forward to today, the most powerful form of advertising is performed through different online platforms. There are many advertising sites online that allow both individuals and businesses to advertise their products.
These advertising sites are great as they allow people to advertise and sell whatever product they want to sell excluding products like drugs or weapons. People use them as these websites are free and can give the sellers access to millions of potential customers. These websites allow you to advertise your products for several days, weeks or even months. The best part about using such sites is that they are free to use so once your ad expires, you can upload it again.
Let's take a look at 6 of the best free online advertising sites out there:
Gumtree is one of the most popular free advertisement sites in the UK. There were a few changes to the company policy after it was acquired by eBay however the platform has only seen an increase in popularity after that. Gumtree is one of the best advertising sites in the UK. You can advertise a variety of different items on the platform ranging from your house furniture to even your house itself.
The site is free to use and post ads however you can also choose one of the three paid packages to further promote your advertisement. The signing up process is very easy, you just create an account, activate it through your email address, and then start with building your advertisement. You need to select the right category, upload high-quality images of the product, and mention authentic information about it. Once done, set your price and complete your ad.
Who hasn't heard of Craigslist? It is one of the most well-known free advertisement sites in the world. Its popularity makes it's a great platform to advertise your products. One of the great things about Craigslist is that it has been around for some time and offers a large list of product categories. This means that you can advertise and sell a range of different items. You can advertise products, services, and even parking spots on Craigslist. Another great thing about Craigslist is that it lets you seek out items. So you can post an advertisement to find things so if anyone wants to sell that thing, they can contact you.
The downside of using Craigslist is that it does not offer free advertisement for all categories. Advertisement for vehicles, furniture, and services may require you to pay some extra fees. In addition to that, another downside of Craigslist is that it has a bit of a shady reputation. There have been instances in the past where Craigslist was used for a number of unethical and illegal activities. The sign-up process is easy and you can set up your account in minutes.
No list about free advertising sites is complete without mentioning Oodle. Oodle is one of the most efficient free ads site on the internet. You need a Facebook account to sign up for Oodle. Oodle has been linked to Facebook for a very long time. Before Facebook Marketplace, Oodle provided a similar platform to Facebook users. So there is no need to create a separate account or email address for signing up. Just visit Oodle and sign in through Facebook. It helps to give the right amount of security to both the buyers and sellers.
Oodle is available in 7 countries at the moment and has an active monthly user base of 15 million. The best part about using Oodle is that it combines free ads from newspapers, eBay, and other similar sites on one site. This gives you access to a large list of ads from different platforms and that is exactly what people look for. No one wants to visit 20 sites when they can find all those ads on one site. The most prominent ad types you can find on Oodle are for vehicles and merchandise.
Facebook has changed from a personal networking site to a very powerful business networking platform. Facebook marketplace not only gives you access to the right business tools but it also has a massive user base which can be great for your business. The downside of using the Facebook marketplace is that it isn't specifically designed for free advertisements however all the supporting tools help to function it in that way. The best part about it is that you can reach hundreds and millions of people through the Facebook marketplace.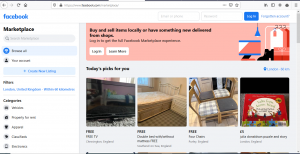 Lokal Classified is an amazing free ads site. It is a relatively new platform compared to some of the other sites on the list. However, since its launch, the platform has gained a lot of popularity. One reason for its popularity is the range of categories you can post an ad for. Lokal Classified offers around 20 distinct categories for your products ranging from cars to furniture to antiques and even children's toys. In addition to that, the user interface is quite simple and easy to use.
The best part about using Lokal Classified is that you don't have to search from a large list of useless ads that sometimes can be found on platforms like Craigslist. They are sort of like junk advertisements. On the seller's side, it allows you to highlight your product for free. Imagine you put your ad up on a site that has a thousand ads in your category.
Lokal Classified is a relatively new platform. So naturally, it has fewer ads than other platforms like Craigslist. This gives the seller an amazing opportunity to get noted. Another great thing about Lokal Classified is that it can be used on your mobile phone as well. The mobile app is also very easy to use. It has a user-friendly interface that lets you post and search for ads quite easily.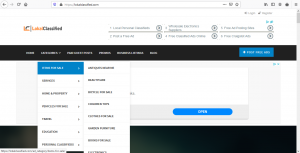 On Lokal Classified Every user gets his/her own profile page and you can post as many ads as you like. However, like most of the other platforms, no distasteful ads are allowed on the platform. There is also an option for paid and premium advertisements which will help sellers post a boosted advertisement on the platform.
Whether you are a seller or a buyer, Geebo can be great for you. Geebo is one of the few platforms that only allows vetted sellers to post advertisements on the site. So if you are a buyer you know you are buying from an authentic seller. On the other hand, sellers get to enjoy a sense of credibility that they can't find on many other free advertisement sites.
The extra security is a great point however there is also a downside to it. Due to the extra efforts conducted by the site, it may take some time for your ad to go live. The most prominent free ads on Geebo are related to freelancing and full-time jobs.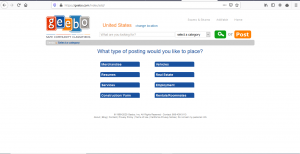 | | Gumtree | Oodle | Facebook Marketplace | Craigslist | Lokalclassified | Geebo |
| --- | --- | --- | --- | --- | --- | --- |
| Alexa Rank | 2,263 | 45,294 (March 19, 2019) | 45 | 189 (June 2020) | 143,915 | 24,804 as at 2013 |
| Year founded | March 2000 | 2004 | 2016 | 1995 | 2018 | 2000 |
| Traffic Monthly Uniques | 48M (2019) | 20M | 450M page views | 20 Billion page views (2016) | 90,000 (2020) | 1M as at 2012 |
| User Interface | Excellent | Good | Excellent | Very good | Excellent | Very good |
| User experience | Good | Good | Excellent | Good | Excellent | Excellent |
| User reviews | Very good | Very Good | Good | Good | Excellent | Excellent |
| Scam activities | High | No data | High | High | Low | No data |
| Spam score | High | No data | High | High | Zero | No data |
Conclusion
These are just 6 of the most efficient free advertisement sites out there. You can find hundreds of similar sites on the internet as well. After looking at all these websites, you can see that all of them have their own unique features, pros, and cons. It is hard to compare all these sites as some of them excel in safety while others excel in offering a large range of categories for ad posting. If you are a buyer who wants to buy from the safest possible seller then you have to try out Geebo. However, if you are looking for a site with the largest collection of advertisements then nothing can beat Craigslist. But on Geebo, you have to wait for days until your ad goes live and Craigslist has its own problems with the authenticity of ads and of course a bad reputation.
So out of the six free advertising sites mentioned above, Local Classifieds is a bit of a wildcard. It is great for both sellers and buyers. The user interface is easy and the site has its own mobile app which makes it easily accessible from anywhere in the world. There is no limit to posting ads unlike some other platforms on this list which is a great thing for sellers. You don't have to wait for a long period for your ad to go live. In addition to that, the customer support is very professional and friendly. So if you are facing any issue with your advertisement, they will help you resolve it as soon as possible.