6 Best Free Classifieds Ads Sites to Sell Unwanted Items
6 Best Free Classifieds Ads Sites to Sell Unwanted Items for Cash Now
If you're ready to sell unwanted stuff for cash, free classifieds ads sites can maximize your return on the transaction.
You can post free classified ads online, avoid other providers' listing fees, and work with trusted members of your community to get money now.
Each site has its own policies to review for a successful listing. Please remember to abide by all community rules to ensure your transaction meets your expectations for the money you can earn.
List of the Best Free Classified Ads Sites
1. Craigslist
You could call this site the grandfather of every online classifieds website today. Founded in 1995 as an email distribution list, it has turned into a massive forum covering over 70 countries and hundreds of cities. It includes a bartering option within the "for sale" area of the website to take advantage of the developing trading economy.
Using Craigslist for your unwanted items ensures that you get rid of the middleman in your transaction. That means you get money faster, avoid shipping expenses, and have immediate local reach.
2. Lokal Classified
Use this free classified ads site if you want the epitome of convenience. You'll find popular categories, the number of listings in each one, and a helpful user interface that makes it easy to navigate to your preferred information. You'll see a complete overview of each product for sale, pictures, and more to ensure you find the best item possible.
This provider includes several easy-to-use filters that help narrow results quickly. You'll spend less time searching because everything that meets your needs is at your fingertips in a couple of clicks.
3. Facebook Marketplace
This online free classified ads service lets you search your neighborhood and city for plenty of items. Since the social media platform is one of the most-used websites in the world, you'll have an excellent chance to have someone see your listing. Since it doesn't cost anything to sell, you can quickly promote your unwanted stuff for cash through your profile to help it gain some exposure.
Since shoppers get all of the information they need without leaving Facebook, you have more opportunities to create a sale because the interested party doesn't need to go elsewhere to find supportive data.
4. Mercari
Although you can list items for free on this platform, you'll pay a 10% fee if it sells. Part of that cost includes a printable shipping label, but it is up to you to pack and ship things when necessary. Since it has a rating system for sellers and buyers, you can work with trusted people instead of blindly operating with strangers.
The listings are a low-maintenance way to get exposure to all of the unwanted items you want to sell for cash. Although you do have fees to manage, it is the lowest amount of any significant selling platform. Since you can fill out extensive descriptions and use images strategically, buyer questions rarely occur.
5. OfferUp
This free classifieds site provides distance information, pricing, and images to browse through the items you want quickly. That makes it a lot easier to find a potential customer when you have unwanted items lying around that could generate some cash. This information makes it easier for interested consumers to find your listing, contact you for a transaction, and take your stuff as you get paid.
6. Locanto
The advantage you'll receive when you post free classified ads online with this site is that you'll have access to several traditional sales categories. You can find everything from personals to jobs on the site, with filters allowing for further refinement based on location and subcategories. It looks more like a retail platform than an advertising website, but that is part of its overall charm.
One of the best attributes found on Locanto is its real-time listing updates. You can always see the latest items, which gives you an immediate benefit as a seller.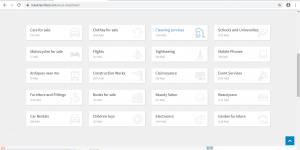 Are You Ready to Start Using Classified Ads Sites to Get Cash?
When you want to post free classified ads online, these websites provide you with the platforms needed for a successful experience.
You can opt for a genuinely free experience with sites like Lokal Classified or Craigslist. There is also the option to list for free on a platform like Mercari and pay a small transaction fee when sales occur.
The best free classifieds ads sites help you to sell your unwanted stuff for cash quickly and conveniently. Start your listing today so that money can be in your pocket as soon as tomorrow!