Top 6 Free Classified Ads Sites
Top 6 Free Classified Ads Sites
Advertising is the future of businesses and that future is here. With so much competition all around, businesses need an outlet to advertise themselves. This can either be in print or digital.
The aim is to reach as many consumers as they can. This is exactly what free advertising sites do. They help you reach a wide demographic so that the visibility of your business can increase in the digital world.
Let's first understand what these are, if they are worth it for a business and the different sites for you to choose from.
What Are Free Classified Ads Sites?
In simple terms, these are ads that you place in a section of a newspaper. This can be either print or digital. Of course, since we are living in the digital age now this has extended to many platforms.
You can now place these free classifieds in newspapers, websites, magazines, and much more. This has also created a new market where websites are offering businesses to post free ads on their sites.
So, there are now sites that are completely dedicated to posting your ads.
Why People Use Free Classified Ads Sites?
Everyone can make use of these sites. It doesn't have to be just businesses. Both buyers and sellers can benefit from posting here. Businesses can post to boost their visibility and even other people post announcements and events such as birthday events, obituaries, charity events, and much more.
The process of signing up is easy. All you have to do is visit the website that is offering free classifieds and just sign up. Once you have, you can post your event or announcement or ad, etc.
The Effectiveness Of Classified Ads Sites
You may be wondering why you should post an ad and what will you get out of it. The answer is simple and based on research. Research done shows that in a week, at least 57% of U.S adults said that they made a purchasing decision based on a newspaper ad online or in print.
This means that you have the power to influence the purchasing decision of more than half the adult population out there. So yes free classified ads sites are extremely effective in drumming up more business for you.
Do remember that these ads don't last forever. For example, some sites will automatically remove your ad after 28 – 30 days. However, some sites provide you the option of deleting your ad as well. This depends on the site you choose.
Most sites have an expiry of a month so that is the most your ad will last. This is because they need to make space for new users so they can post their ads as well.
Now that you know everything about these sites, let's find out the top 6 that you can utilize for your next advertising campaign.
Top 6 Free Classified Ads Sites
All these sites will offer you unique features that affect your traffic differently. Let's explore each in-depth so you can make an informed decision.
#1. Craigslist
Did you know that this is one of the 30 most visited sites in the United States? So you can imagine just how many users come to this site. This of course did not happen in a day. The site was founded in 1995 and has gained popularity since then.
Here are some statistics you need to know about this site:
It has an average number of 50 billion page views in a month
There are at least 80 million free classified ads posted in a month
Craigslist operates in over 70 countries
These are some promising statistics that can't be ignored. The site allows users to post an ad once every 48 hours depending on their geographical area.
Here are some pros and cons of this free classified ads site.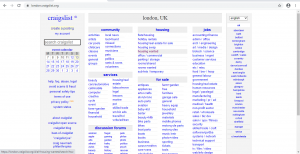 Pros
Targets a huge demographic
The ad stays for 45 days
Available in many countries
Cons
Craigslist doesn't have the best reputation in the market
To reach your target audience you have to ensure that you are targeting the right locations
In short, Craigslist is a great platform and as long as your ad doesn't look like a scam you will get many buyers through this site!
#2. Lokal Classified
This is our top second choice because it offers so much to individuals and sellers. You can easily post your ads here for free from anywhere and at any time.
The best thing about this site is that your ad will last for a year! Even after a year if your item hasn't been sold then you can repost your ad. Apart from that, there is no limit to the number of ads you can post here!
Of course, this doesn't mean that you spam but you can post ads for many products you may be selling. All you have to do is sign up and you can start posting ads.
They target a wide audience that is interested in buying a variety of things so it doesn't matter what your product is because you can sell it here for sure.
Here are some pros and cons to this platform.
Pros
Your ad will last a year
No limit to the number of ads you can post
Good reputation
Large user base
Cons
Only available to English speaking individuals as the site is just in English
In conclusion, this is a great platform you can utilize to sell. However, the only limitation is that it is just for individuals who know English.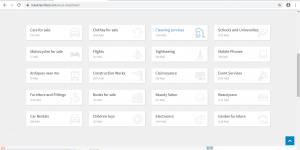 #3. Oodle
This platform was founded 16 years ago in 2004. Right now this platform is the biggest aggregator of listings from different sites such as ForRent, eBay, Myspace, and much more.
It has 15 million monthly users! Just imagine the number of people you can target using this site. The best part about it is that you are obligated to connect your Facebook account to your Oodle account.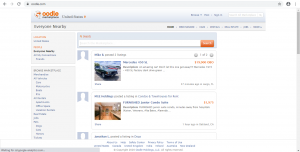 This is done to protect people from frauds and scams. Once this is done you can post free classified ads under many categories such as community, rentals, vehicles, and merchandise.
If you go for the upgrade you can even provide a link to your site to gain extra traffic. Here are some pros and cons of this site.
Pros
Easy to use
Integrated with the USA today so your ads will show on their site as well
An extremely powerful tool to reach a large user base
Cons
No HTML linking. This means you can't get a backlink to your website
Oodle is a powerful tool and is being used by many businesses to post free classified ads. Just make sure that the information on your account is consistent with your social media profiles and you are good to go!
#4. Geebo
This site was founded 20 years ago in 2000 and since then they have earned the reputation of being the safest platform out there. So if being safe on a free classified ads site is your top priority then Geebo is an ideal choice for that.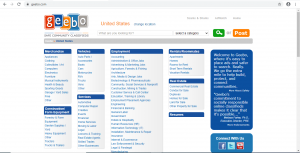 Its user base is largely in the United States as 98.12% of its users are from there. It also has total visits of 2.46 million users on average. To benefit from these numbers you have to sign up on the platform and post your ad.
However, your listing will first be reviewed by the company. This is done to keep the platform free of fraud and scams. This is why you can count on the fact that all users on this site are extremely loyal.
Here are some pros and cons of Geebo.
Pros
Nice and clean design
A sleek layout that is easy to navigate
Screening of both buyers and sellers
You can provide a backlink to your website
Cons
It will take a while for your ad to appear
If you are willing wait and safety is your biggest consideration then Geebo is the perfect platform for you.
#5. Hoobly
This is an extremely diverse free classified ads site that was founded in 2003. You will find every kind of ad here from arts, jewelry, musical instruments, real estate, vehicles, and much more. Anything you can think of you will find it on this site.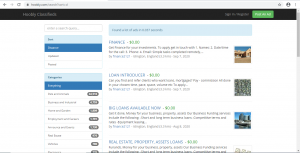 Hoobly is now available in more than thirty countries. However, its largest user base exists in the USA. To post a free ad here you will have to create an account and verify your email. Once this is done you can start posting your ads.
Here are some pros and cons of this site.
Pros
Secure and safe
Easy to use
You can post anything as the categories are endless
Cons
All in all, this is a well-rounded free classified ads site that can boost your reach and visibility.
#6. Locanto
This is one of the best German based free advertising sites that are available in more than 60 countries. It was founded in 2006. You can use this to post jobs, cars, physical products, real estate, and much more.
You can even sell tickets, activities, and different services available in your community. This is why it is the ideal choice for businesses that have a large presence in their community.
It has more than 3.64 million total visits and 89% of its traffic is derived from users in the U.S. Considering that your ad will be there on the website for sixty days you can target a huge audience.
Here are some of its pros and cons.
Pros
Offers social media share buttons
Provides backlinks
Great for community-based efforts
Provides a few analytics
Cons
Popular in some cities more than others
In conclusion, this is an amazing site that can provide you a lot of value once you start using it.
Final Words
These are all of our top 6 free classified ads sites. Use this information to make the best decision for your ad and once you do just wait and see the amazing results!